Hello Darlings!
While social isolation and the quarantine have been difficult in a few ways (my school is closed, breweries are closed, suddenly I don't care about anything on Netflix), this also gives me time to actually read more and post more regularly. I love to read, and I love to talk about what I read, and I love that I have an indefinite amount of time to do both. 🙂
If you read January's reading challenge post, (and if you haven't, click here) you'll know that I started my 2020 reading challenge a month late, and am getting the posts up a bit late as well. Therefore, today my February 2020 challenge book shall be discussed! To the right is the journal I'm using to track my reading this year, and which includes the reading challenge I'm doing. You can find it on Amazon here.
February Reading Challenge: Read a book you would normally consider a guilty pleasure.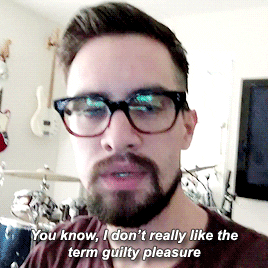 I do agree with the gif above, I don't really like the term "guilty pleasure" because I think we should like what we like and not adhere so closely to what others think we should and should not like. There's my mini-rant on that. With that in mind, in the past, I have had some make fun of my fondness for chick lit and how it is "garbage and doesn't improve your mind" (ahem, awful ex-boyfriend). More than a little annoying, don't you think? Read what you want to read. Read what makes you happy. Mini-rant #2 done.
For this challenge, I read Jenny Colgan's The Bookshop on the Corner. I purchased this copy from Powell's Bookstore in Portland when I was there over the winter holiday. I have read a few of Colgan's other books and found them enjoyable and when I saw this one, and saw that it had "bookshop" in the title, I figured I might as well give it a go. I was also hooked on the concept: bookish, introverted woman loses her librarian job and then up and moves to Scotland to start selling books out of a renovated van?! Yes, please.
Overall, I found this book pleasant, although predictable. If you have read anything else by Colgan, you'll start to notice a pattern in her books. What I did enjoy (and what I feel she is really good at) is the setting of this book. She makes the setting feel so alive and alluring. I enjoyed Nina, the main character, and the growth she went through. I will say, however, that not only did the main romance/ending feel rushed, but I am still unsure how I feel about who Nina ends up with. Many of the male characters in this book felt like jerks, even the ones who were supposed to be the "good" characters. There are some redeeming qualities to her end game guy, and therefore I am undecided. As I mentioned, the climax-through-resolution (forgive me, I have plot diagrams burned into my brain thanks to teaching) felt rushed, and some aspects fell flat. I'm trying to give you an idea without fully giving spoilers, so bear with me.
Pros: Scotland setting, quirky characters, lots of books and book talk, Nina
Cons: Rushed ending, some characters feel flat, romance is rushed, men are jerks
Honestly, if you like some quick, light reading and don't mind predictable plots, give this a go. It was cute. I have enjoyed other books by Colgan as well, such as Little Beach Street Bakery, and The Loveliest Chocolate Shop in Paris.
What are some books/genres that have been placed in the "guilty pleasure" category for you? Let me know! 🙂 As always, keep reading!