Now that the decade of March is over, Happy April! I'm truly hoping that April brings strength and good news for all of us. I managed to read all of the books I chose for my March reading list and have a new list for April! As with all of my monthly lists, they are usually just the starter. On top of print books, I'm usually "reading" 1-2 audiobooks a month, although with the quarantine, it might be more this month. I have quite a blend of books to start reading!
The Bungalow Mystery by Carolyn Keene
This is the first of two books on my list this month that I have already read. Why am I rereading books, you ask? I'll tell you. I participate in an Instagram Nancy Drew book club each month, and The Bungalow Mystery is this month's read. If you want to join, search the hashtag #NancyDrewBookCrew or go follow its creator, @emileereadsbooks. I actually don't remember too much about this particular story, so I'm looking forward to it. Additionally, I've ordered the OG version of this book–did you know that these books went through a huge revision in the 50s? I read the original text of The Hidden Staircase (#2) last month and it felt like a completely different story, and a completely different Nancy.
Emma by Jane Austen
This is the second book on the list this month that I have already read, but again, it was quite a while ago. With the new movie out on-demand, I decided I would give this another read-through before watching the movie! I remember it took me a while to get into this story and I would put it down for long periods of time before picking it up again. I'm ready to give it another go and see how I do with it a second time! This will be part of my "Megan Reads the Classics" series that I attempted to start over a year ago and never kept it up. 🙂
A Novel Bookstore by Laurence Cosse
This is my pick for April's reading challenge: read a book that was originally written in a different language. I'll admit, I've had this book on my shelf for a LONG time. I've never managed beyond the first couple of chapters (seeing a pattern yet?) before I give it up. The premise is awesome: a seemingly unrelated series of incidents befall mild, ordinary, everyday people. Their connection? They are all members of The Novel Bookstore's "secret selection committee" which selects literary gems to provide the bookstore's clientele. Apparently, this makes some incredibly angry…for reasons that I'm sure I'll find out while reading. Mysteries and books…what could go wrong?
Alexander Hamilton by Ron Chernow
Two years ago this month, I was lucky enough to see the Hamilton musical, and to say I am obsessed with it is an understatement. This is the biography that inspired Lin-Manuel Miranda to create his musical masterpiece, and I purchased it after seeing the musical to read. I was diligent for a couple of weeks and then…like two of the books above, put it aside. As I will be transitioning into remote teaching in a couple of weeks, I have made Alexander Hamilton an "ongoing monthly read"….meaning I am not going to put pressure on myself to finish it by the end of April. I WILL however, put pressure on myself to read a little bit of each day. 🙂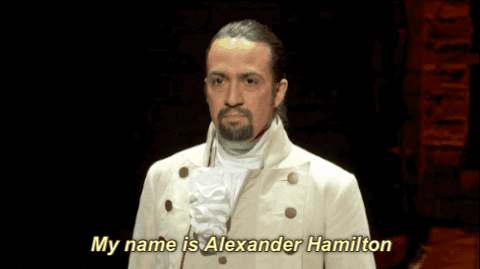 That's all for today my dears! Be kind and patient with each other during this time of isolation and as always, keep reading. 🙂