Happy Monday All!
I'm here today with July's Challenge Post! The challenge for July was to "read an award-winning young adult book." For this challenge, I chose The Hate U Give by Angie Thomas.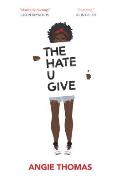 Wow. I know I'm late to the game and everyone has already agreed on this….but this book is GREAT. Plus…reading it right now? In the summer of 2020? Incredibly relevant.
Thomas created an engaging and turbulent story, but even better than that, she created amazing characters with hopes, flaws, strengths, issues, intelligence…I loved them. Starr pulls you into her world and plants you firmly in her corner right off the bat. After tragedy strikes (very early in the book) and Starr witnesses her best friend's death at the hands of a police officer, all I kept saying to myself was "Please universe (aka, Angie Thomas) PLEASE let nothing more happen to Starr and her family." We are there as Starr has to bridge two worlds, and, as she feels, two versions of herself, and learn and grow through a harrowing experience.
I wish I had read this book sooner…but I am also thankful that I read it for the first time this summer, when it feels even more relevant than it already was…but honestly, I don't know if this story has never NOT been relevant. I'm rambling. Anyway. I know this book has themes and ideas that can seem controversial, although truly, I don't understand why it's controversial to not want white people (and police officers) to continue harming and killing Black people. It should not be controversial to want people (ahem, police) to be held accountable for their actions. Thomas does not demonize the police in this story, but she doesn't go easy on them either.
There are so many brilliant laters to this story and I can keep going, but I will end this soon. This book is important. It is relevant. As a white person, it is important that I read this, to continue to have my eyes opened and continue to examine the aspects of our systems that are broken, my role in keeping these broken systems afloat, and how I can work and learn to be an ally and to help create new systems that do not exist to oppress BIPOC. I highly recommend this book, and I also truly think this is a book that needs to be taught in schools. Romeo and Juliet can GTFO.
Cheers and keep reading!